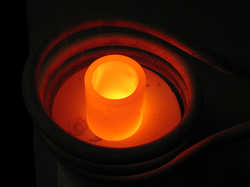 High frequency welding machine can replace most of the electric iron and resistance welding machines
Crystal high-frequency machine invention, not only the machine is used in a very low power, but also because of the induction heating coil can reduce the heat source of the range, even up to within 2 ~ 1ψmm diameter. Its head is also different from the traditional vacuum induction ball machine, the volume even smaller than a fist, easier assembly automation or narrow the space for the body.

It is the biggest difference with the traditional electric resistance welding and soldering torch, the heating process does not touch the object to its maximum welding characteristics, and will not overheat due to oxidation of the welding head, leaving the solder flux and other surface contamination poor contact. Without adding more pressure on the object, thus making the weldment internal material rupture. Not because of the weldment between each other, between its contact with the electrode surface, due to excessive electrical fire caused by poor electrical impedance gap. Or vary between two weldments volume size, material, or contact the surface smooth or not, and makes another positive and negative nuclear unevenly distributed, resulting in uneven heating area, a weldment therefore overheating, applied pressure and deformation.

Ultra-high frequency welding machines, no more than the phenomenon to be stable and repeatable, automated use.

Another characteristic is the largest high-frequency welding machine can instantly in less than one second between fast local, direct object of induction heating, non-conductive by a slow, no radiant heat problems, do not need to warm-up, so save a lot of power. Can also control the temperature, thermostat use. Welding called the electronic sector and a major innovation.
---
DM

Download